Uniross BC101778 (or 63C) for Cordless Phones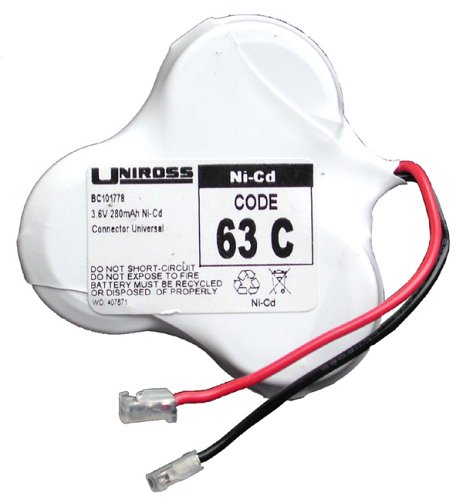 Type: Nickel-Cadmium. Voltage: 3.6 V. Capacity: 280 mAh.
Height: 46 mm. Width: 51 mm. Depth: 9 mm.
Price: £6.99. Postage and packing included.
Construction: 3 x button Ni-Cd cells. Fully universal connector.
Comments:
This BC101778 NiCd battery fits many Cordless telephones.
This BC101778 NiCd battery also fits the model Tomy Walkabout 3000 baby listener.
Do not be concerned if your battery has a single connector and looks different from the photograph above. Uniross use the split 'half' connector to accommodate cordless phones that need the reverse polarity so one battery can fit a wider range of phones. This is the aptly named 'universal' connector. It is simply a matter of pushing the two 'half' plugs into each half of the socket in your phone.
For use with cordless phones such as:
ALCATEL Daytona,
BINATONE ZX Range,
Citizen TN50N, 51N, 52N,
Dialatron Palma, Madison, Denver,
Excursion 500,
GEC Esprit, 1042 Envoy 1043,
GEEMARC SANDIAGO, 400NB, 400B, Capital, Europa PT,
PANASONIC EXCUR 6000, KX-T3805, KX-T3807, KX-T3822R, KX-T3832R, KX-T3860, KX-T4200, KX-T4200R,
Uniden 500.

Do not be concerned if the mAh rating of our battery is different to your original. In most cases our BC101778 battery will have a higher rating than your original which will give it a longer talk time per charge.
---
© The Small Battery Company 1999 - . All Rights Reserved.