Canon NB-2L, NB2L replacement battery (VB102186)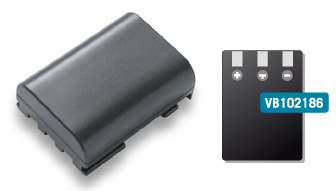 Type: Lithium-Ion. Voltage: 7.4 V. Capacity: 630 mAh.
Height: 45.2 mm. Width: 33.3 mm. Depth: 16.2 mm.
Price: £14.10. Postage and packing included.
Replaces: Canon NB-2L, Canon NB2L, Canon NB-2LH, Canon NB2LH, Canon BP2L12. The VB102186 is an equivalent to many other batteries. Click here for details.
Comments:
This VB102186 Lithium-Ion Digital camera battery fits some Canon digital cameras and camcorders. It is a DIRECT replacement for the Canon NB-2L battery.
For use with digital cameras such as the:
Canon Powershot S30,
Canon Powershot S40,
Canon Powershot S45,
Canon Powershot S50,
Canon Powershot S60,
Canon Powershot S70,
Canon EOS 350D,
Canon EOS 400D,
PC1018 and the Canon Elura 40mc camcorder.
For use with camcorders such as the:
Canon Elura40
Canon Elura 40 mc
Canon Elura 40
Canon Elura60
Canon Elura 60
Canon Elura65
Canon Elura 65
Canon Elura70
Canon Elura 70
Canon IXYDV3
Canon MV5
Canon MV5i
Canon MV5iMC.
This Canon NB-2L, Canon NB2L battery replacement comes with a two year manufacturer's warranty.
For a suitable charger consider our fabulously versatile universal U-Charger
If you need the double- capacity double- thickness version of this battery then take a look here.......
---
© The Small Battery Company 1999 - . All Rights Reserved.
The VB102186 can replace these batteries too....
Canon NB-2L,
Canon NB2L,
Canon NB-2LH,
Canon NB2LH,
VidPro AC-NB2L,
Polaroid PR-109DG,
Lenmar DLC2L,
Canon BP2L12.